In today's interconnected world, where data-driven insights and powerful edge computing are driving innovation, Qualcomm's QCS8250 System-on-Module (SOM) and Development Kit (DK) stand at the forefront of cutting-edge technology.
Designed to meet the demands of premium-tier processors, the QCS8250 SOM & DK are poised to QCS8250 offers a powerful heterogeneous computing architecture coupled with the Qualcomm AI Engine to efficiently run complex AI, deep learning workloads, On-device-edge inferencing at incredibly low power, and NPU (Neural Processing Unit) for performance and always on neural network (NN) use cases.
Applications
The major applications for this module is enterprise and commercial IoT applications such as Video Collaboration, Smart Cameras, Healthcare, Smart Retail, Fleet Management, Digital signage and more.
Key Features & Benefits
Exceptional Camera Support: Packed with advanced Image Quality (IQ), handles 7 concurrent AI cameras, supports three 4K displays, intelligent zoom, 8K video, and 64MP photo capture for exceptional high-definition content creation.
Powerful Edge AI and Video Analytics: The processor boasts 15 TOPS of AI performance via a dedicated CV hardware block and Hexagon Tensor Accelerator, optimizing enterprise-grade IoT applications by combining sensor inputs like cameras, audio, Bluetooth®, and hubs.
Supports 5G, Wi-Fi 6: Offering extensive wired and wireless connectivity options, including 5G (up to 7.5 Gbps), Wi-Fi 6, and Bluetooth 5.1, perfect for enterprise IoT. Plus, it supports popular cloud applications for distributed AI models.
Wide range of peripherals interfaces support: Rich set of interfaces such as 2x USB 3.1, Type-C with DisplayPort, MIPI-CSI/DSI, PCIe (3-lane), and memory support interfaces for LPDDR4x/LPDDR5 – suited for industrial and commercial IoT applications.
Dedicated NPU 230 for Machine Learning applications: With a dedicated Neural Processing Unit (NPU), the QCS8250 excels in machine learning applications, enabling real-time decision-making and inference.
Key Challenges and Use Cases Addressed
Case Study 1: Cost-Effective, Low-Power Video Conferencing Solution
In the era of remote collaboration, the QCS8250 provides a cost-effective and low-power solution for video conferencing. Its ability to power multiple cameras while supporting various video encoding formats ensures a seamless and efficient conferencing experience. Organizations can now rely on this module to enhance their video collaboration solutions, enabling high-quality communication with reduced power consumption.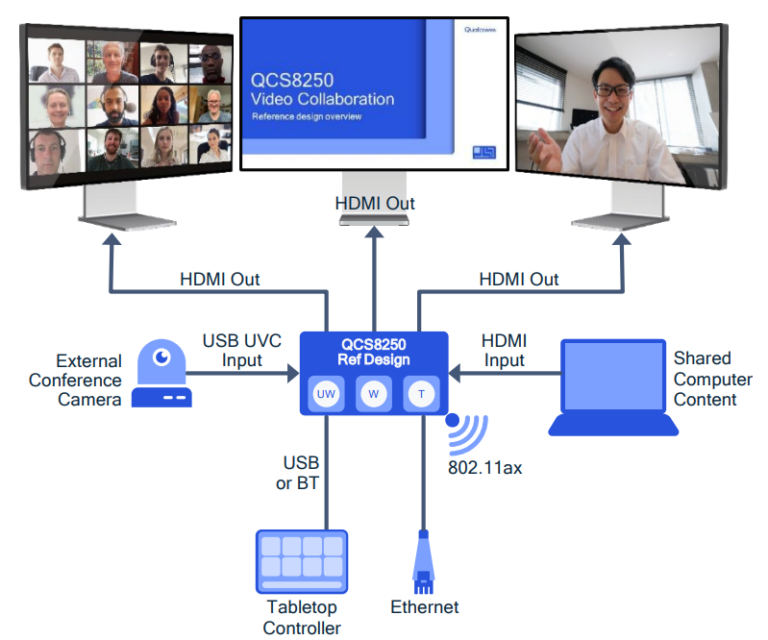 Case Study 2: Smart Retail Revolution
With smart retail on the rise, the QCS8250 can multitask effectively, handling scanning, payment processing, loss prevention, personalization, and analytics simultaneously. Whether it's streamlining checkout processes, optimizing inventory management, or enhancing the overall shopping experience, this module offers a versatile solution that empowers retailers to stay competitive in a rapidly evolving landscape.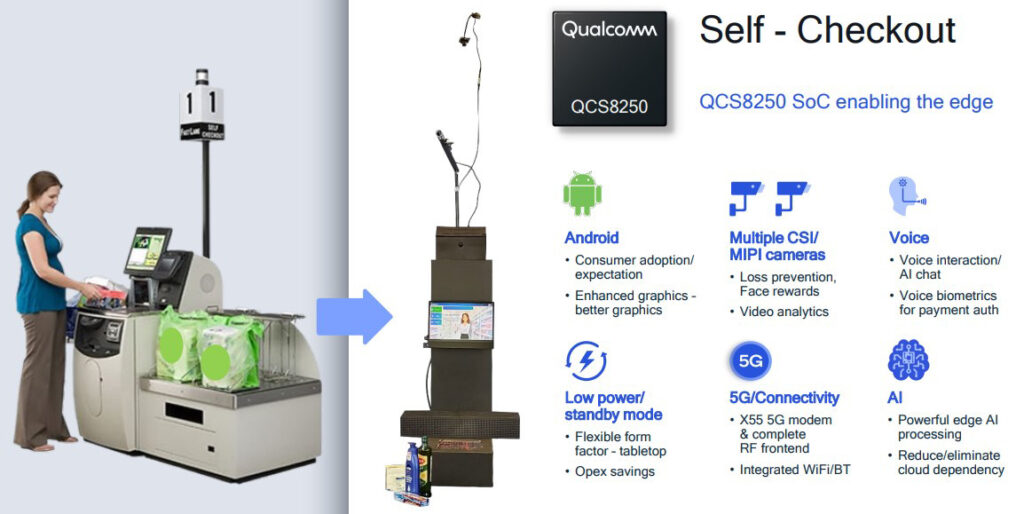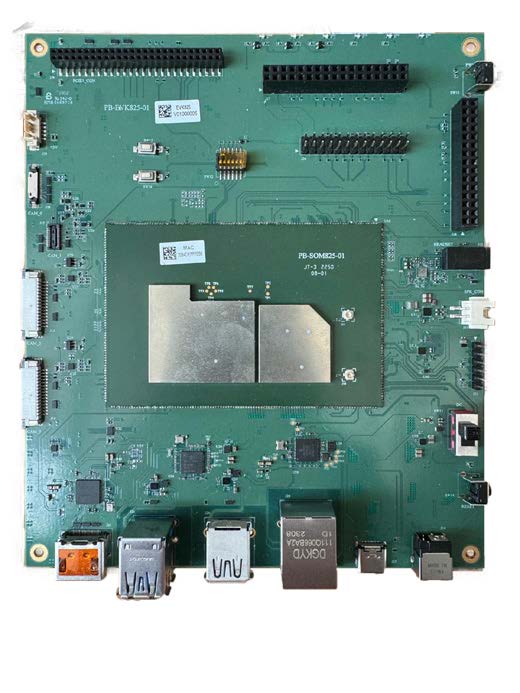 Excelpoint SOM and Development Kit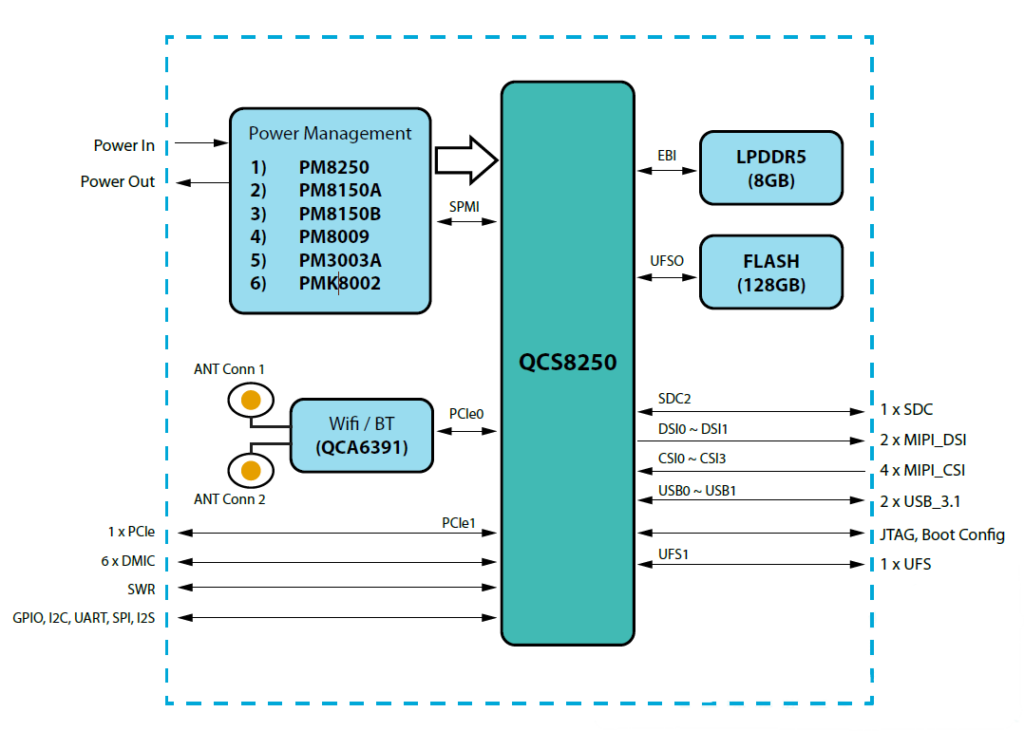 QCS8250 SOM Block Diagram & Features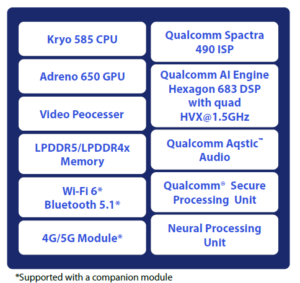 QCS8250 Chipset Functional Block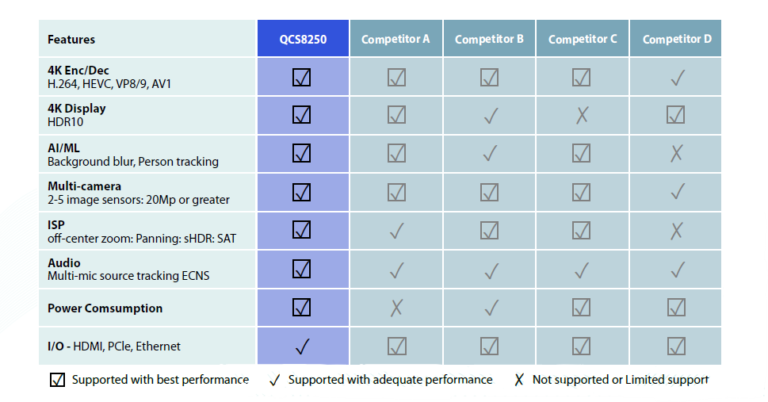 Comparison with other competitors